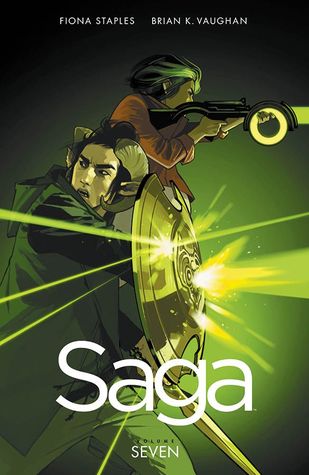 From the worldwide bestselling team of Fiona Staples and Brian K. Vaughan, The War for Phang is an epic, self-contained Saga event! Finally reunited with her ever-expanding family, Hazel travels to a war-torn comet that Wreath and Landfall have been battling over for ages. New friendships are forged and others are lost forever in this action-packed volume about families, combat and the refugee experience. Collecting: Saga 37-42...
Title
:
Saga, Vol. 7 (Saga #7)
Author
:
Rating
:
ISBN
:

9781534300606

Format Type
:

Paperback

Number of Pages
:

152 pages

Url Type
:
Home » Saga »

Saga, Vol. 7 (Saga #7)
Saga, Vol Brian K Read this title for free and explore over million titles, thousands of audiobooks, and current magazines with Kindle Unlimited. Saga, Vol Vaughan and Staples wholly original Saga won Eisner awards for best new and best continuing series, and it s no surprise This smash hit continues to be a Saga Series Image Comics Saga Brian K Vaughan Fiona Staples Saga is an epic space opera fantasy comic book series created by writer Brian K Vaughan and artist Fiona Staples, published Saga Define Saga at Dictionary Saga definition, a medieval Icelandic or Norse prose narrative of achievements and events in the history of a personage, family, etc See . SaGa Wikipedia SaGa is a series of science fiction open world role playing video games formerly developed by Square, and is currently owned by Square Enix. SAGA discography and reviews Progarchives SAGA is a Crossover Prog Progressive Rock artist from Canada This page includes SAGA s biography, official website, pictures, videos from YouTube, MP free List of Power Levels Dragon Ball Wiki FANDOM Power levels redirects here For the concept of power levels, see Power Level This is a list of known and official Power Levels in the Dragon Ball universe. Korvac Wikipedia Korvac center on the cover of the trade paperback edition of Avengers The Korvac Saga Art by George Prez.
---
Saga, Vol. 7 (Saga #7) Reviews
I read seventh volume of Saga as single issues, the extra material may vary from the full volume that collects the issues 37 to 42 .



After the sixth volume I wondered will my journey with Saga come to an end sooner than I had expected due to lack of many things I had learned to appreciate in the previous volumes. To my great surprise, seventh volume continues the strong chemistry-wise storytelling that ties up wonderfully when combining multiple older characters to new, intriguing personalities I read seventh volume of Saga as single issues, the extra material may vary from the full volume that collects the issues 37 to 42 .



After the sixth volume I wondered will my journey with Saga come to an end sooner than I had expected due to lack of many things I had learned to appreciate in the previous volumes. To my great surprise, seventh volume continues the strong chemistry-wise storytelling that ties up wonderfully when combining multiple older characters to new, intriguing personalities that will no doubt get more panel time in the coming story arcs.

The very much familiar and comfortable humor is still touchable, but I feel Saga is finally stepping inside the darker side of humanity that is very much morbid, full of loss and heartbreak, but also growth and acceptance of natural course of human life and interactions.

As usual, Saga keeps being timely, constantly referring to the things that happens in our reality. There is no escape into fantasy fiction, the current times are always present and reminding us of our history, values and morals. Of the things that have been, and most likely always will be.

All in all, Saga is back on track after a slightly preachy and lacking sixth volume. ...more

Overall, this is another solid installment within the Saga series. But compared to the others, I don't feel like it totally lived up to them. Of course, I'm not saying that because it was bad - it totally wasn't at all. I just felt like it was far less action packed.

Should you read it? If you've read the others, I doubt that's even a question. Absolutely. Yes. Without question. And if you havent read the others, go read them too. This is a fantastic graphic series that I think anyone and everyo Overall, this is another solid installment within the Saga series. But compared to the others, I don't feel like it totally lived up to them. Of course, I'm not saying that because it was bad - it totally wasn't at all. I just felt like it was far less action packed.

Should you read it? If you've read the others, I doubt that's even a question. Absolutely. Yes. Without question. And if you havent read the others, go read them too. This is a fantastic graphic series that I think anyone and everyone can find something to love in. Of course, it's not exactly PG or safe-for-work, so if you're easily offended then pass on this one. ...more

That ending. That goddamn ending. Hit me worse than all the sucker punches of cliffhangers from before.

*sniffles*

But on a brighter note, I'm so so happy to be reunited with my favourite gang of craven deserters masquerading as peacemongers!

And precious new ones too...



(view spoiler)[...until that soul-ripping last page happened of course ;_; (hide spoiler)]

As always, Saga continues to blow my expectations through the roof with its nonstop action, wit and grit.

Characters come and characters go That ending. That goddamn ending. Hit me worse than all the sucker punches of cliffhangers from before.

*sniffles*

But on a brighter note, I'm so so happy to be reunited with my favourite gang of craven deserters masquerading as peacemongers!

And precious new ones too...



(view spoiler)[...until that soul-ripping last page happened of course ;_; (hide spoiler)]

As always, Saga continues to blow my expectations through the roof with its nonstop action, wit and grit.

Characters come and characters go but not one fails to leave a mark in your heart, no matter how big or small. That's what I like best about this series: having an exciting, unique story is one thing, but carrying a host of fleshed out, loveable characters too throughout it all?

Hats off to you, Brian K. Vaughan.

You're even starting to make me fall in love with Prince Robot. PRINCE ROBOT. MASS-MURDERING CHILD-KILLER PRINCE ROBOT. Seeing a flustered Prince Robot with his attraction towards Alana was eaaasily a highlight of this volume.



(P.S. THAT COVER IS FRICKIN' GLORIOUS ლ(́◉◞౪◟◉‵ლ) )["br"]>["br"]>["br"]>["br"]>["br"]>["br"]>["br"]>["br"]>["br"]>["br"]>["br"]>["br"]>["br"]>["br"]>["br"]>["br"]>["br"]>["br"]>["br"]>["br"]>["br"]>["br"]> ...more

Get ready to say goodbye to some beloved characters.

And be introduced to others. There's always a risk for authors who introduce new characters in their stories and kill old ones: the reader might not like them, connect to them or find them as interesting as the dead ones.

But it's not because there's a risk that the author should never do it. In fact, Brian K. Vaughan introduces new characters in every new volume of Saga. And impressively enough, I don't believe there is one I wished he never c Get ready to say goodbye to some beloved characters.

And be introduced to others. There's always a risk for authors who introduce new characters in their stories and kill old ones: the reader might not like them, connect to them or find them as interesting as the dead ones.

But it's not because there's a risk that the author should never do it. In fact, Brian K. Vaughan introduces new characters in every new volume of Saga. And impressively enough, I don't believe there is one I wished he never created.

So this author doesn't play it safe and that's admirable, because so far I've been in awe of his writing and character developments. I still remember how much I hated Robot at first… and then he changed… and changed again. I would be curious to see the end of his story. Will it be a happy one?

Once again, there is a time jump. Only six months this time, but it still affects the storyline a lot. I hope these time jumps will not be as frequent, going forward, because I understand the world-building better when we as readers know as much as the characters do.

Some very endearing scenes. The rest is action, blood and danger. Eager to read the eight volume when it's out.

Blog | Youtube | Twitter | Instagram | Google+ | Bloglovin' ...more

Reviewed by: Rabid Reads

4.5 stars

2016 was the year of the graphic novel for me--between Fables and Monstress , I was well and truly hooked, but it was Brian K. Vaughan's SAGA that blew my mind and showed me that, similar to (good) poetry, graphic novels could pack all the insights and feelings of a first person POV full-length novel into a third of the pages and an even smaller fraction of the words.



So I've been looking forward to Volume 7 ever since I binge read 1 - 6 last July.

I'm actually Reviewed by: Rabid Reads

4.5 stars

2016 was the year of the graphic novel for me--between Fables and Monstress , I was well and truly hooked, but it was Brian K. Vaughan's SAGA that blew my mind and showed me that, similar to (good) poetry, graphic novels could pack all the insights and feelings of a first person POV full-length novel into a third of the pages and an even smaller fraction of the words.



So I've been looking forward to Volume 7 ever since I binge read 1 - 6 last July.

I'm actually pretty proud of myself for waiting for the last six individual installments to be bundled together instead of snacking on the smaller episodes each month. I wasn't sure I could do it, but I'm glad I did, b/c combined they pack one hell of punch.



And by "one hell of a punch," I mean that Vaughan broke my heart 1, 2, 3, 4, 5, 6, 7, SEVEN times.



I started taking screenshots after the third time, which, incidentally, was less than halfway through it, to keep track.

It wasn't just a heart-pummeling either. Vaughan likes to do this thing that most people would call foreshadowing, but that's kind of like saying Karen Marie Moning likes to end her books with cliffhangers (a gross understatement).



If you're familiar with SAGA, I'm sure you remember that bomb Hazel dropped about her parents however many volumes ago it was. This time it wasn't quite that bad--my chest didn't feel like there was a gaping void where my heart used to be--but the sense of impending doom made me feel like that bird that panicked and took flight in BAMBI.



You know . . . the one that got shot.

There was also a horribly awkward plot thread involving Sir Robot and his amorous feelings for Alana. #grossman



Now would be a good time to mention the adult nature of this series. There's an ambiguity to SAGA's designation as a "graphic novel" that is not for the faint of heart.

BUT.

I'm fairly vocal about my dislike of being crass or vulgar out of lack of creativity and/or for the shock factor, and I don't feel that's what's happening here. Is it still uncomfortable at times? Definitely. But that's kind of the point. LIFE is uncomfortable, and at its roots, SAGA is about life.



As for how it ended, well, you'll just have to experience that for yourself, and as is always the case with an ongoing series, there are several big unanswered questions, like:

What the hell was in that box?



And something about the context surrounding Marko and Petri's argument over who should go after Izabel made me think ze wasn't referring to either hir criminal status or hir transgenderness when Marko voiced his concern about hir being recognized. Or maybe I'm reading into things b/c we know virtually nothing about hir past. *shrugs awkwardly*

Regardless, Volume 7 of SAGA does not disappoint, and it continues to be the very best of what graphic novels have to offer, IMO. Highly recommended to the WHOLE (adult) WORLD.

...more

Re-read 1/23/18: My heart is broken all over again :(

Original read 4/24/17: This volume was one of the most heart wrenching, most hopeless things I have ever read. I'm so sad :(

Why do we love Saga this much?

This question can absolutely never be answered with shitty answers like "the art's damn beautiful" or "the story is great". Sure those are the attributes of this graphic literature by Brian Vaughan and Fiona Staples, but you cannot give justice and won't be able to fully describe how good Saga is with those one-line descriptions. That is how f*ckin great this series is. So if you haven't read it, my god, can you just buy and read it?

Volume seven embodies all I love Why do we love Saga this much?

This question can absolutely never be answered with shitty answers like "the art's damn beautiful" or "the story is great". Sure those are the attributes of this graphic literature by Brian Vaughan and Fiona Staples, but you cannot give justice and won't be able to fully describe how good Saga is with those one-line descriptions. That is how f*ckin great this series is. So if you haven't read it, my god, can you just buy and read it?

Volume seven embodies all I love about this comic. There's so many that I might not be able to tell them all, or not in a systematic sort of way, but let me start with saying something that most of us would agree on: Saga's characters are just perfect. Perfect in a way that their imperfections and all that constitute their persona are the ones that drive the story to greatness. A good story cannot be fully realized or appreciated without awesome characters. Characters who are human, both brave and cowards, flawed yet they try to be who they aspire to be. Marko, Alana and the group aspires to be a family (with a tranny horn, a ghoul and a droid) despite their differences. The Will dreams (literally) of his past so that he can think about his future. Gwen aspires to make the galaxy to be a bit better places despite the horror of her actions.



Their voices may ring of happiness and quips, but ultimately, you'd feel a tone of loneliness, almost lost in the vastness of space.

All these characters have voices, and if you hear them in the wonderfully constructed words in the bubbles, you'd hear them so loud yet so distant in the vastness of space. Their voices may ring of happiness and quips, but ultimately, you'd feel a tone of loneliness. F*ck, even L.C. has feelings!

Brian Vaughan lashes out his own political views about themes like war, spiritualism and the blind following to religion, the savagery and self-righteousness of those who are in power, terrorism and sexuality. I didn't buy those things in his Ex Machina but I did here in Saga. Again it is in the characters, in their point of view and in those little conversations that those views become very personal and very endearing, and before realize it, these themes are already inside your system.

Fiona Staples has never been this good. Her illustrations have a perfect mix of ruggedness and love that it gives Saga its visual tone. I mean, that issue #37 cover alone is perfection perfected. I love the nuances in the emotions of the faces she draws. The sense of wonderment in these pages has been effectively conveyed by the illustrations.

The only (very minuscule) disappointment I have with this volume is that I was expecting to see a bit of skirmishes, since after all this arc is The War for Phang. To those of you who haven't read this book, don't expect a battlefield. Nonetheless you will be thoroughly entertained as I did. Even cried a little at the end. Oh yeah, this is really not spoiler because it is a common thing in Saga, but yeah, something happens. Haha, damn you Brian K. Vaughan! Thank you too. ...more